BLOG
LATEST POSTS
A PICTURE IS WORTH A THOUSAND WORDS  
It's been said, "A picture is worth a thousand words!" When it comes to servicing your vehicle, believe it or not, that phrase may just apply. 
Recent health protocols and industry standard safety guidelines have kept customers out of the shop for quite some time. At Byma's Tire and Auto we have found a way to keep our valued customers "in the shop," so to speak. We have employed the use of a tool which we call a Digital Safety Inspection Report. We use this tool to keep our customers well informed about their vehicles throughout the whole service process. 
Our technicians are equipped with tablets and will record comments on various vehicle systems that include: Dash warning lights, Gauge Operation, Wiper Blades, Turn Signals-Hazards, Exterior Body Condition, Battery Test-Terminals, Engine and Cabin Filters, Brake Fluid, Transmission Fluid, Engine Oil, Power Steering Fluid, Washer Fluid, Drive Belts, Hoses, Coolant Protection, and Steering, Suspension, and Brake Systems.  
Within the various systems checked in the Digital Safety Inspection Report we include pictures to support any service recommendations that are being made. Once the inspection is complete, we email the report as a safe live link to our customers. This email will include the technicians' notes as well as the supporting pictures for the customer to view. This becomes the 'Virtual View' of our service inspection and brings you, the customer, right into the shop with your vehicle. 
Mike Barkman- September 24th, 2021
---
THINKING BACK........ 
 It was 1969 when I first became interested in the automotive industry.  As a young lad fresh out of high school, I loved cars, especially the muscle cars coming out of Detroit. It was a very special time. 
 Everyone was adding things to their cars in an effort to make them look or sound fast. It became a passion for me, I needed to get involved with car upgrades and repairs. 
Off to college I went to learn the trade and to achieve an apprenticeship. After 17 years in the repair industry, I was approached by someone who thought I could run a shop for him. After 2 years of management, I felt it was time to strike out on my own.  
In 1987 with much fear and prayer I set out, with my wife Trudy, to purchase a Firestone franchise in Waterloo. Our business grew steadily, and we enjoyed running the company together until 2002. Unfortunately, in the spring of that year Trudy was diagnosed with cancer and in 2004 I lost my wife and business partner. 
 
The company carried on in our Waterloo location until our lease expired in 2009. Together with my son David we seized the opportunity given to begin again at the current location on Fischer Hallman Road. Dave and staff worked many weeks to set up the new location. With the assistance of staff, family, and friends we moved from the old location to the new location in two days. We then dug deep to begin again. 
Although not involved in the daily activities of the shop since my retirement in 2015, I do feel very blessed to have been a part of Byma's Tire & Auto since its inception. 
As I look forward, I know that the entrepreneurial spirit is alive and well. When I see the continuing growth of Byma's Tire & Auto, it does make me proud. I am very grateful for God's blessings over the years.  
John Byma- September 9th, 2021
---
IMPORTANCE OF WHEEL RE-TORQUE
Too many times a year you read or hear about wheels coming off vehicles while on the highway. You have to ask yourself how a driver and/or auto shop lets that happen.  We at Byma's Tire and Auto, as well as other auto shops torque or tighten all wheel nuts to specification before they leave our shop.  And yet it can still happen!!!! 
The mating services need to be clean and free from all debris and/or corrosion.  The wheel or rim gets put up against the wheel bearing-that allows the wheel to be attached to the chassis of the car but still turn/rotate. Then the lug bolts or lug nuts get tightened or torqued onto that wheel bearing. 
Here is where the trouble can begin.  If there is any corrosion or debris unseen by the technician, the wheel is not straight against the mating surface, the torqued wheel nuts/lugs can still come loose. Once the nuts are loose, vibration from driving can back them off to a point where they can come right off. 
For this reason alone, we ask all our customers to return within one hundred (100) kilometers to have the lug nuts re-torqued. This assures that what ever debris that was between the wheel and bearing, will have dislodged itself in that time frame. So, when the retorqued is done, we and the customer can be assured of safe and happy motoring going down the highway 
Marty Stanfel- August 16th, 2021
---
DOES COVID HAVE YOU FEELING RUN DOWN? 
Your vehicle's brakes feel the same way! 
As we continue along our pandemic journey, it is important to note that in the automotive service industry – vehicles are designed to move. Extended periods of sitting and a continued lack of driving can be very concerning to your braking systems, and in turn your wallet.  
The silent killer, corrosion, is the number one cause for concern. Concocting a recipe derived from a ferrous metal (brake rotor), high humidity and a very salty Canadian winter, results in rust. Under normal circumstances the rust accumulated on braking surfaces is removed during brake application before it has a chance to take hold. However, if a vehicle sits for a prolonged period, the rust perforates deep into the rotor and the brake pad is unable to clean it away. This can lead to a significant loss of braking performance, and if left too long may require replacement of the brake pads and rotors completely.  
The salty road brine experienced throughout the winter washes away lubrication that is applied to the brake caliper slider pins, anchors, and pad backings. This lubrication allows for the brakes to freely engage and disengage without hesitation when being applied. Without this lubrication, calipers are more likely to seize and prematurely wear out your brakes, or not engage at all resulting in a loss of brake performance.  
Brake fluid is hygroscopic, which means that it has the ability to attract and absorb water. While a small amount of water in your brake fluid can be accommodated, significant accumulation is very bad for the system and can lead to a critical failure during emergency braking application. Accumulated water lowers the boiling point of brake fluid, and once the fluid reaches a boiling point it no longer applies pressure to the brake pads. Typical braking components can exceed 356°F during usage.  
Finally, it may come as a surprise that leaving the parking brake engaged for an extended period of time can cause problems of its own. You may find that a mechanically driven parking brake remains fused to the rotor it is acting on, even when released. The long-braided steel cable that connects to the parking brake handle can also become corroded and bind. In either case, releasing the parking brake inside the vehicle may not actually release the parking brake from the rotor or drum. Extended driving with the parking brake engaged can cause quite a bit of damage to either component.  
As a general rule of thumb, preventive brake servicing should be completed at least once a year. While not only prolonging the life of braking components on your vehicle, we ensure that all components are working as intended and your vehicle drives safely down the road.  
Mitch Di Venanzo- July 6th, 2021
---
34 YEARS… 
In 1987 Byma's Tire & Auto was formed. It was located at 66 Bridgeport Road East, in Waterloo, the corner of Bridgeport Road and Weber Street.  Our neighbours at the time were a Dutch Girl corner store, Pioneer gas station and Towers. The store was started by my parents John and Trudy Byma. It had 4 technicians in the shop, and 1 counter salesman. It was 6 bays in a busy parking lot. Over the years the business grew into 10 bays with 6 technicians and 2 counter staff. I started with the company in 1993 as a summer job to save money to get my first car.  
In 2009 our shop had to move to a new location after loosing its lease in Waterloo. We moved to our new home at 1170 Fischer-Hallman Road, in Kitchener. It was difficult starting over again, but exciting to be in a brand-new facility that we custom built for our needs. We dropped down to 8 bays with 6 technicians and 2 counter staff. In 2017 we grew again. We added on 4 more bays and bunch more room for tire storage. Today, I am still here along with 7 technicians, 1 tower operator, 2 service advisors and support staff. There has been a lot of ups and downs over the years, and I am very proud of the service that we have provided to everyone over the years. 28 years can feel like a long time, but when you work at a place that you truly love, it fly's by.  
Thank you to all the employees that have worked here over the years. Thank you to every customer for the support that everyone has given our team over the years. I am truly grateful for everyone's trust in my families business over the past 34 years.  
Dave Byma - June 17th, 2021 
---
DOES BYMA'S TIRE & AUTO PRICE MATCH? 
High-volume automotive service centres traditionally operate on pricing and business models that are built on a fixed number of operational hours available.  Investments that are made into continued technological advancement, equipment, and ongoing training practices prevent the ability to slash prices against competitors. In an industry where equipment costs run into thousands of dollars for a single diagnostic or service item, there is a tremendous amount of pressure to keep those tools running. Vehicle systems become more complex everyday, and training is a necessity – in the last 5 years alone we have seen a new Freon (AC) requirement, and the establishment of highly specialized Hybrid and Electric vehicles.   
It is difficult to watch good customers jump ship because they were offered a price they couldn't refuse. But while we were busy changing, adapting, and maintaining our quality of work and service, most cost cutting companies are no longer with us or they're barely hanging on with no ability to produce quality work because they slashed expenses too low to support a pricing model that's not sustainable. 
Some people are willing to pay for quality, some for amazing service, some pay for outstanding reliability, and some people simply want the lowest price possible without regard for quality, service, or reliability - but not all people. We don't compete on price because we know that to do so would compromise the outstanding quality, service, and reliability our customers have come to know and expect from us. Amazingly, many customers that left us for price reasons have returned because they realized that you get what you pay for.  
That doesn't mean we're never the lowest price, or that we don't make concessions every once in a while for great customers when they need it; We do. It just means that we're confident that those who value quality, service, and reliability will happily pay a reasonable price for those attributes, and that we need to charge what we need to charge to offer that to our customers. We've built our business on the simple philosophy that we offer the absolute best value anywhere. We don't have a single competitor that provides higher quality or better service at our price point, and that's something we're simply unwilling to compromise. 
Thank you for continually supporting a local family-owned business that values every customer who comes through the door! 
Mitch Di Venanzo- June 3rd, 2021
---
COVID RHYTHMS OF DRIVING
The pandemic has impacted our lives in many ways. Our work rhythms have changed, and with them so have our driving habits. Simply stated, we don't drive as much. This new way of life (hopefully gone soon!) has specifically affected two systems on our vehicles because of lack of use. Let me tell you what those systems are and give you a simple plan to maintain your car's health.
I) Your Car's Braking System:
Brake servicing around tire swap time in the spring has been a long standing auto service recommendation. Cleaning the rust build up in the brake system on both front and rear axles will ensure that winter salt and brine don't wreak havoc. Never has this been more necessary for your vehicle then now when lack of driving seems to be the norm. A simple front and rear brake calliper service will ensure free moving brake systems and will get you the longest even wear of your brake pads and will help to see your brake system through this strange time.
II) Your Car's Charging System:
The other system affected by covid driving rhythms is your vehicle's charging system. Our car batteries do not like to be parked  for long periods of time without being charged, and short trip driving on top of this only enhances the problem. Batteries are failing,
To combat this deterioration and ensure proper charging system health, perform a battery service to fight corrosion build up on your battery posts/terminals. A simple charging system evaluation (AVR test) can assess your car's current charging system health.
III) Wrapping up:
So covid has impacted our rhythms of life. Our cars are not exempt from this either, with both brakes and batteries being stressed. With both of these simple recommendations in mind don't forget that nothing beats a good drive
Mike Barkman- May 25th, 2021
---
WELCOME LOGAN! 
We are thrilled to welcome Logan to our BYMA'S TEAM, as a co-op student!  Logan is a Grade 11 high school student, from St. Mary's High School.  Logan has a passion for cars and an interest in pursuing a career as an Automotive Technician.
We at Byma's Tire & Auto love to teach and share our passion for vehicles.  We wish Logan a rewarding co-op term!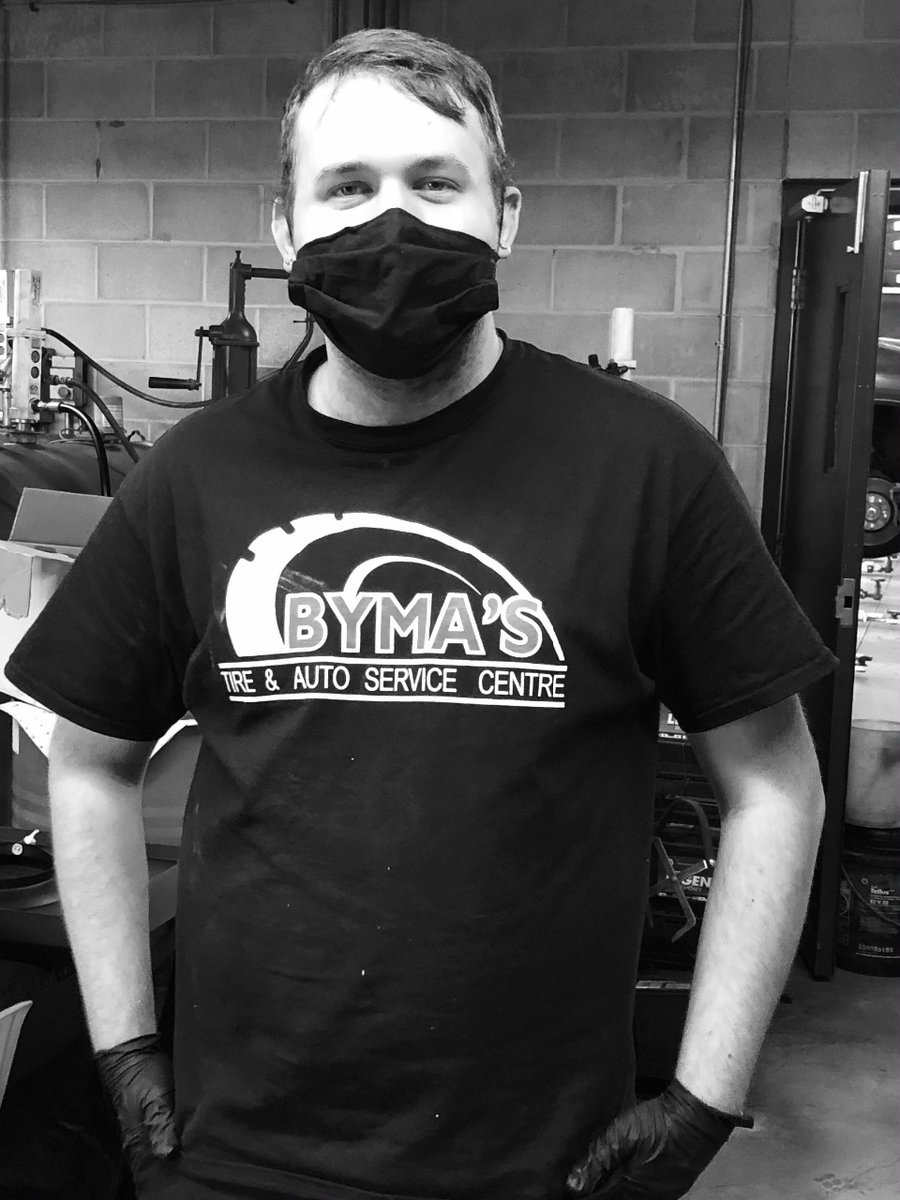 Jackie Byma- May 11th, 2021
---
EMPLOYEE OF THE QUARTER
We would love to introduce you to our Employee of the Quarter, Mike Barkman!
Mike has 35 years of experience in the automotive industry and has been with us for 2 years as one of our Service Advisors.  He always has a BIG smiling face when you walk in our front doors!   
Mike is our Customer Service Guru; he is always willing to help!  If you have a question or issue Mike will always find an answer or solution.
Teamwork would be one of Mikes most prominent skill sets.  He is always seen lending a hand with all his co-workers at Byma's, no matter the task at hand.
Personally, Mike has a large supportive family.  A loving wife of 21 years, 8 children and 1 granddaughter. 
Thank you, Mike, for being such a valuable member of our Team!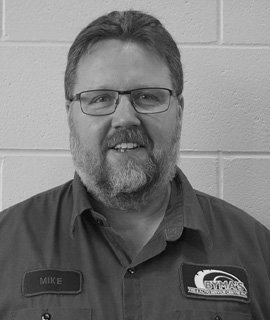 Jackie Byma- April 22nd, 2021
---
ON TIME  EVERY TIME
Are you tired of going to your dealership and having to drop your car off at 7:30am in the morning, not knowing what time you'll get it back? Do you wait? Do you shuttle home? Shop? Wander aimlessly? 
Well, at Byma's Tire & Auto, we understand how valuable your time is! What sets us apart is our ON TIME appointments.  When you schedule an appointment with us, you can rest assured that your vehicle will be going in ON TIME.
But wait, there's more! Not only will your car get in ON TIME, we will also get it out ON TIME! That's right, no sitting around in the waiting area 2 hours after you were promised.  When you are told your vehicle will be out in 45 minutes, it is completed and ready in 45 minutes.  Are we cutting corners? No! We just respect your valuable time, and we are pros at what we do.  
ON TIME Every Time, ONLY at Byma's Tire & Auto
Mitch Di Venanzo- March 15th, 2021
---
OUR TECHNICIANS' FAVOURITE PUBS IN KITCHENER, ONTARIO
Do you have the take-out blahs? Looking for a new place to try? We asked our technicians to vote on their 5 favourite pubs in Kitchener, Ontario.
In no particular order:
Shayna Di Venanzo- March 1st, 2021
---